Position: Part Time Academic Coach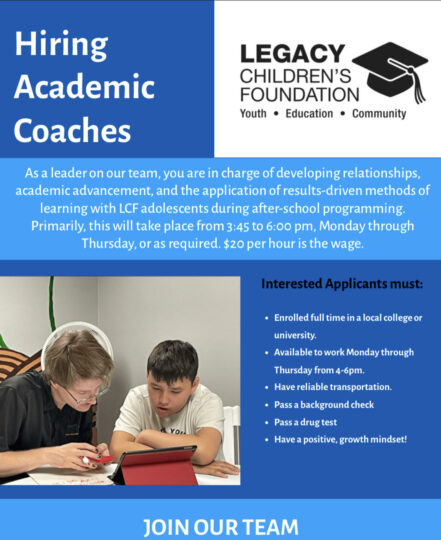 Academic Coaches work in person during the week from 3:45-6:00 pm, Monday through Thursday. preferably all shifts but a minimum of three shifts.  We pay $20.hour.
Academic Coaches need to be actively enrolled in pursuing an advanced degree program, fluent in speaking, writing, and reading English, have their own transportation, experience with youth, and a desire to make an impact in their lives.
Physical Requirements:
While performing the duties of these positions, the employee is required to communicate effectively with others.  The employee must be able to use a keyboard, mouse, telephone, and other office equipment.  The employee is frequently required to walk, sit, and reach with hands and arms.  The employee must be able to review detailed documents and read computer screens.
Lifting Requirements:
The employee will be required to be able to exert 20 to 50 pounds of force occasionally, and/or 10-25 pounds of force frequently, and/or greater than negligible up to 10 pounds of force constantly to move objects.  Physical demand requirements are in excess of those for light work.
EQUAL EMPLOYMENT OPPORTUNITY
It is the policy of Legacy Children's Foundation to afford equal employment opportunity to all individuals regardless of race, creed, color, religion, gender, national origin, ancestry, age, marital status, veteran status, disability, medical condition, gender identity, or sexual orientation.
Interested candidates should submit their resume and cover letter to legacychildrensfoundation@gmail.com